All those days of rain this month have been helpful to anyone dealing with tree pollen allergies, but now that same rain may make things more difficult for those allergic to grass pollen. More from WFIR's Evan Jones.

Its called the "Hope Festival" and is designed in part to celebrate the good things happening in a northwest Roanoke City neighborhood. More from WFIR's Gene Marrano about an event this weekend:

RICHMOND, Va. (AP) – Virginia officials want residents to help them pinpoint what areas in the state lack access to broadband Internet service. The new initiative announced Tuesday by Gov. Terry McAuliffe is aimed at helping officials fill gaps in broadband coverage across the state. McAuliffe is asking residents to sign onto a new website RUonline.virginia.gov to let officials know the level of internet connectivity they have. Residents will be asked a few questions about where they live and their Internet service. The governor's office says the initiative will run through early August. Residents who can't access the website at home can visit a local library or call (877) 969-6685.

On Tuesday, May 24, at 9:02 a.m., personnel from the Salem Police and Salem Fire and EMS Departments responded to the 1600 block of Apperson Drive in reference to a City of Salem garbage truck that had been struck by a Norfolk Southern freight train. The accident occurred at the crossing that is directly across the street from Margaret Lane. Upon arrival, first responders found the driver of the city vehicle outside of the overturned truck with multiple injuries. They immediately began stabilizing him and transported him to Carilion Roanoke Memorial Hospital with life-threatening injuries. At approximately 11:15 a.m., Norfolk and Southern began moving the train and shortly afterwards hazmat crews began cleaning up the diesel fuel that leaked from the overturned dumpster disposal truck. The vehicle also was removed from the far side of the tracks. It was determined that the vehicle was traveling south after exiting a business located near the railroad crossing. As it approached Apperson Drive, the sanitation truck was struck on the passenger side by the eastbound train. Because of the direction of the crash, traffic on Apperson was not diverted at any time. The cause of the accident is still under investigation and the driver's name is not being released at this time.

First there was Deschutes – and now the 11th largest craft brewer in the U.S. is coming to the Greenfield Center in Botetourt County.  San Diego-based Ballast Point Brewing and Spirits will build their east coast operations in the old Lawrence Transportation building – investing 48 million dollars and creating almost 200 jobs in the process. State grants and local tax incentives helped make the difference. "I am thrilled to announce that Ballast Point Brewing and Spirits will join the Commonwealth's world-class, award-winning roster of craft breweries," Governor McAuliffe said today. "Winning this significant project was a top priority, and we are proud that Botetourt County will be home to the company's East Coast brewing operation."
Beth Doughty, executive director of the Roanoke Regional Partnership, said the organization called on the company more than a year ago as part of a campaign to attract craft brewers.  "The company was able to move quickly because we matched them with an available building and all the infrastructure to help meet their requirements." "Our private sector partners at Lawrence Companies were critical to this recruitment and I appreciate their role putting Botetourt County and Virginia in position to make this announcement today," said Gary Larrowe, Botetourt County administrator.
ALEXANDRIA, Va. (AP) — Virginia Gov. Terry McAuliffe says he's confident he followed the law in accepting donations that now appear to be part of a federal criminal investigation. McAuliffe defended his actions Tuesday to reporters at an event in Alexandria. A law-enforcement official told The Associated Press on Monday that McAuliffe is the subject of a federal investigation looking at donations to his 2013 gubernatorial campaign. McAuliffe said he believes the investigation centers around a donation connected to Chinese businessman Wang Wenliang. Federal law forbids foreigners from contributing to U.S. political campaigns, but McAuliffe said Wang has held a green card for nearly a decade and is a legitimate donor. McAuliffe is a longtime friend of Bill and Hillary Clinton. He said he's also confident the investigation won't harm Hillary Clinton's presidential bid.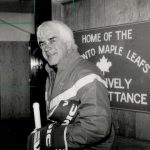 A visiting coach that Roanoke Express hockey fans loved to hate has died. More from WFIR's Gene Marrano about a man who didn't mind playing the villain:

The Greenway Ambassadors Program officially launches today. A concerned citizen pitched the idea for it after his friend was attacked last year on the Roanoke River Greenway. WFIR's Starr Anderson has the details.
If you can't make it to the informational tent today click here for more details on how to become an ambassador.
From Roanoke County Police: Tuesday, May 24, 2016 – Roanoke County Police have charged a student at Cave Spring High School with making a threat at the school on May 19. A threatening message was discovered written on a bathroom wall. The felony charge includes one count of threats to bomb or damage buildings or means of transportation; false information as to danger to such buildings, etc. (Sec. §18.2-83 of the Code of Virginia). On April 21, police charged a student at William Byrd High School with making threats at the school on April 7 and April 18. On April 22, police charged a student at Northside High School with making a threat at the school on April 15. Police continue to investigate similar threats made at Northside High School on April 18, Hidden Valley High School on April 19 and William Byrd High School on April 21.
Governor McAuliffe is at the center of an ongoing investigation – focused at least in part – on whether donations to his gubernatorial campaign violated the law. WFIR's Ian Price has details: