Total Action for Progress – TAP – wants more people to know about services the social service agency provides. More from WFIR's Gene Marrano:

The Roanoke Valley-Alleghany Regional Commission is partnering with Roanoke City for the National Bicycle and Pedestrian Documentation Project. WFIR's Starr Anderson has details on how you can take part as well.
Volunteers are needed on September 14th from 5:00pm-7:00pm and September 17th from 12:00pm-2:00pm. To get involved, contact Amanda McGee at amcgee@rvarc.org by September 1st.

Senator Tim Kaine's selection as the Democratic Vice-presidential nominee on Hillary Clinton's ticket makes a lot of sense according to an academic who studies political communication –  as WFIR's Gene Marrano reports:
Roanoke County School are mailing information this week to school parents on completing the "first day forms" on line. School officials don't expect to hear many objections, as WFIRs Evan Jones reports.
BLACKSBURG, Va. (AP) – Two former Virginia Tech students have been indicted in the slaying of a 13-year-old girl. Montgomery County Commonwealth's Attorney Mary Pettitt said a grand jury returned indictments Tuesday against David Eisenhauer and Natalie Keepers, who authorities say plotted to kidnap and murder Nicole Lovell last January. Eisenhauer was indicted on charges of first-degree murder, kidnapping and hiding the body. Keepers was charged with being an accessory to kidnapping and murder and with helping hide the body.   Trial dates were set Tuesday in both cases for March 2017. Pettitt says Eisenhauer and Keepers both face up to life in prison. Prosecutors haven't discussed a possible motive.
RICHMOND, Va. (AP) _ Tim Kaine's wife has resigned as Virginia's Secretary of Education.   Virginia Gov. Terry McAuliffe's office announced Tuesday that Roanoke native Anne Holton stepped down from the cabinet-level post because her husband had been picked to be Hillary Clinton's running mate.  McAuliffe said Holton's resignation was effective Monday. Holton is the daughter of former Gov. Linwood Holton and is a longtime child advocate and former Richmond Juvenile and Domestic Relations Court judge. Prior to joining the McAuliffe administration, Holton directed a Virginia Community College System initiative that helps young people who are aging out of foster care continue their education. She and Kaine met at Harvard Law School and have three children.   McAuliffe announced Holton's replacement is Dietra Trent, a former deputy secretary of education.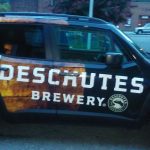 The local production facility won't open until 2021 but Deschutes Brewery products can be found at local retailers and restaurants beginning August 1st. More from WFIR's Gene Marrano:

There is still time to register for the 3rd annual Roanoke Youth Summit. WFIR's Starr Anderson has more details on the event for middle and high school students and their parents.
Republicans who showed up for Donald Trump's first post-convention appearance yesterday at the Hotel Roanoke seem to fully support the parties candidate, who was once considered an outsider. WFIR's Ian Price has details:
Republican presidential nominee Donald Trump says Tim Kaine's record as governor is dismal, calling the current senator a life-long politician and a "hack". He spoke at the Hotel Roanoke yesterday, as WFIR's Evan Jones reports.