NATURAL BRIDGE, Va. (AP) _ An emergency official says two Washington & Lee University students were chilly but uninjured after they became lost while hiking and spent the night in the James River Face Wilderness.  Rockbridge County Emergency Management coordinator Robert Foresman says searchers reached the students around 4:15 a.m. Thursday at Devil's Marbleyard.  Foresman says the students were among four who were hiking at Devil's Marbleyard on Wednesday evening when they became lost. The other two students were quickly found.   He says one student rescued Thursday was wearing a T-shirt and shorts. Temperatures dropped to around 28 degrees Wednesday night.   One firefighter twisted a knee during the search. Another was taken to a hospital after feeling ill. Devil's Marbleyard is an inclined rock field of boulders.

Those lucky enough to get through to Jefferson Center this morning for Sheryl Crow tickets can look forward to her July 31st concert at the new Elmwood Park amphitheater. But a low $15  price helped create a huge demand that overwhelmed the Jefferson Center's website and the box office phone line. WFIR's Gene Marrano has the story.
RICHMOND, Va. (AP) _ The Virginia Supreme Court has upheld a judge's decision rejecting a conservative group's attempt to obtain a former University of Virginia climate researcher's emails.   The justices on Thursday agreed with retired Arlington Circuit Judge Paul Sheridan that Michael Mann's emails are exempt from the Virginia Freedom of Information Act.   The records were sought by the American Tradition Institute, which disputes the assertion by Mann and other climate scientists that decades of heat-trapping carbon gas emissions into the atmosphere are responsible for global warming. Republican state Delegate Bob Marshall joined the institute in seeking the records.  According to the court, the emails are proprietary records exempt from disclosure because they deal with academic research.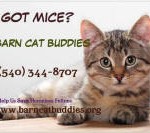 Need a cat to chase after mice in your barn or garden? Barn Cat Buddies wants you to know April is "Adopt a Barn Cat Month". WFIR's Gene Marrano has details:
VDOT officials says once all the bills are in, they expect their snow removal spending this winter to total $350 million dollars, well over twice what was budgeted. As a result, VDOT is cutting back on some other maintenance spending and re-allocating $65 million in federal construction funds. WFIR's Evan Jones has the story.
Click here for the full VDOT news release. It includes a list of all Salem District construction projects included in the plan.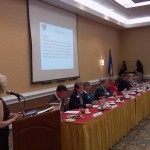 A lunchtime forum for Roanoke's ten City Council candidates at the Sheraton Hotel today marks the third time they will get together this week. Three seats are being contested in the May 6th election. WFIR's Gene Marrano reports:
CHRISTIANSBURG, Va. (AP) _ A man accused of shooting and wounding two women at a community college inside a Christiansburg mall has pleaded guilty to four felony charges. Neil Allan MacInnis, 19, of Christiansburg, pleaded guilty Wednesday to two counts of aggravated malicious wounding and two counts of using a firearm in a felony. Sentencing is set for July 10 in Montgomery County Circuit Court. Police have said the women were in the lobby when a gunman entered a satellite campus of New River Community College in the New River Valley Mall on April 12, 2013. The suspect was subdued by an off-duty security guard and Christiansburg police. MacInnis has been held without bond at the Western Virginia Regional Jail.
 RICHMOND, Va. (AP) _ Virginia Tech has paid federal fines for its actions on the morning of April 16, 2007, when a lone gunman killed 32 people on the school's campus.  The U.S. Department of Education said Wednesday the university has paid two fines totaling $32,500 for violations of the Clery Act, which requires universities to issue timely warnings of campus threats.
Once you complete "America's Toughest Road Marathon," as the Blue Ridge Marathon in Roanoke is promoted, most races afterwards will be a piece of cake. That's the message from guest of honor Zoe Romano. WFIR's Gene Marrano reports:
Republican leaders in Richmond call it blinding hypocrisy, accusing Democrats who opposed federal government shutdown threats last fall of an obvious about-face in threatening a state government shutdown come July. They have asked Democratic U.S. Senator Mark Warner to support their position and call for an end to state budget shutdown threats. WFIR's Evan Jones has the story.