Virginia Tech has named its next president, and he comes to Blacksburg from Purdue University.  Timothy Sands has been Executive Vice President for Academic Affairs and Provost of Purdue. He succeeds Charles Steger, who announced last May he would step down when a successor was chosen. Steger has been Virginia Tech's president since 2000. Before taking administrative positions, Sands was an engineering professor at Cal-Berkeley and at Purdue. As WFIR's Evan Jones, Sands promises to "keep the momentum moving" in Blacksburg.

An ice storm is forecast for the immediate area this Sunday, and the Virginia Department of Forestry reminds homeowners to inspect their property for tree limbs that ice could bring down. John Campbell with the Forestry Department recommends using an Certified Arborist to make sure the job is done right. WFIR's Bob Clark has the story.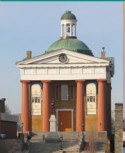 The Lynchburg Museum will feature a special display tonight to highlight the involvement of women in World Two. The program is schedule tonight as part of "First Friday" from 5:00  to 8:00 pm. The event at the Lynchburg Museum is free tonight. WFIR's Bob Clark has the story.
The Regional Center for Animal Control and Protection tried something new last weekend, and it led to a spike in adoption numbers.  It's normally closed Sundays, but the center held a special adoption event last Sunday, and that led to 33 pet adoptions in a four day period — way above normal. WFIR's Evan Jones has the story.
UPDATED THURSDAY 4:10 pm –Lynchburg Police say there is no evidence right now to suggest the death of 18-year-old Jamisha Gilbert is connected to the disappearance four months agao of Alexis Murphy, another young black woman. Murphy was last seen at a Lovingston convenience store August 3rd.  Lynchburg Police also say "investigators have not received any information that would lead them to believe that the public is in any immediate danger as related to the circumstances in [the Gilbert] case."  Police said earlier today the body found in woods yesterday near Concord Turnpike and Pleasant Valley Road is positively identified as Jamisha Gilbert.
Click here to read the full Lynchburg Police news release
—–
UPDATED: Thursday 12:00 pm — Lynchburg Police say the Roanoke Medical Examiner's office has positively identified the body found yesterday as that of Jamisha Gilbert. They are not releasing further for now on the circumstances surrounding her death.
—–
Previous story:
Lynchburg Police say they found the body of a black woman Wednesday, but they have not positively linked the discovery to 18-year-old Jamisha Gilbert's disappearance. Police search teams were going through a heavily wooded area between Concord Turnpike and Pleasant Valley Road  when they discovered the body. Lynchburg Police Lieutenant David Gearhart indicated police believe foul play is involved, treating the area as an active crime scene and continuing to search the area for more physical evidence. Jamisha Gilbert was last seen early Friday morning. The state medical examiners office in Roanoke will determine if the body found is hers.
Salem Police are asking for help in identifying and locating the man they believe is responsible for two holdups of pizza delivery drivers last month. Police say the first robbery occurred the evening of November 5th in the area of 36 Otter Avenue, and a similar holdup occurred in the same area three weeks later at almost the exact same time of night. Police have released two composite sketches of the suspect which they hope will help track him down. Anyone with information is asked to call Salem Police at (540)375-3078 or Roanoke Valley Crime Line (540)344-8500.
(Continue reading for the full Salem Police news release.)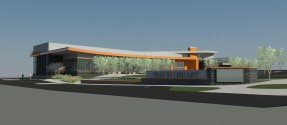 It's not exactly a groundbreaking, but it is still a ground-breaking moment today for a new Roanoke County Library branch in Vinton. Officials will give a ceremonial command today to begin tearing down the former Dunman Floral Supply building. The work itself will begin later this month, and plans call for construction of the new library likely to begin in late winter. WFIR's Evan Jones has the story.

A new law that takes effect in January first will save many Virginia residents money. The DMV reports the law allows the owners of seasonal vehicles and active duty military on deployment to deactivate their license plates for a portion of the year. The DMV reminds anyone that does this needs to reactivate the plates before using them. WFIR's Bob Clark has the story.

There will be many changes to the 2014 Blue Ridge Marathon. Because of flooding on the Roanoke River in previous years, the course in that area will follow less of the greenway. In other changes,, the half marathon has been made tougher and a new 10K run has been added. Registration is open for the marathon that will run next April 26th. WFIR's Bob Clark has the story.