NEWPORT NEWS, Va. (AP) _ The man charged with abducting a University of Virginia student was mentioned in a police file in connection with a sexual assault at a different university in 2003. Christopher Newport University said in a statement Wednesday that Jesse Leroy Matthew Jr. was included in a campus police file stemming from an on-campus sexual assault on September 7, 2003. Matthew left school afterward but was never charged with a crime. Matthew was a student at CNU from January 2003 until October 2003. He transferred to the university after three years at Liberty University in Lynchburg. He was on the football team at both schools. Matthew is charged with abducting missing U.Va. student Hannah Graham with intent to defile, or sexually molest, her.

RICHMOND, Va. (AP) _ Virginians have less than two weeks remaining to register to vote in next month's general election. The deadline to register is Oct. 14. The Nov. 4 ballot features the U.S. Senate race between Democratic Sen. Mark Warner and Republican Ed Gillespie, as well as congressional races and some local races. Virginians can register at their local voter registrar's office, at Department of Motor Vehicles offices or on the state Department of Elections website at www.elections.virginia.gov. To complete online registration, applicants must provide a driver's license or DMV identification card number. Applicants who don't have a DMV number can still fill out the application online but must print and return the completed form to the registrar's office.

The downtown Roanoke Hampton Inn & Suites construction project is back on track… when a concrete slab they had poured fell off the hotel going up on top of a three-story parking garage on Church Avenue, the project was halted for a safety review. WFIR's Gene Marrano has an update:
Republican Senate candidate Ed Gillespie says recent Secret Service security lapses are part of a much greater lack of accountability in the Obama administration.  He appeared yesterday on our Lynchburg sister station WLNI — before Secret Service Director Julia Pierson resigned — but Gillespie says the White House problems go far beyond one agency. WFIR's Evan Jones has the story.
RICHMOND, Va. (AP) _ U.S. Sen. Tim Kaine is arguing anew for federal recognition of Virginia's Indian tribes. The Virginia Democrat is appealing to the Bureau of Indian Affairs regarding the federal acknowledgement of American Indian tribes. He's encouraging the bureau to adopt greater flexibility in its recognition process to overcome the barriers Virginia's tribes have confronted. One hurdle to recognition is that many of the tribes' records were held in courthouses that were burned during the Civil War. Kaine and Sen. Mark R. Warner introduced legislation in 2013 to grant federal recognition to six Virginia Indian tribes. A companion bill in the House was introduced by U.S. Rep. Jim Moran. Kaine says he continues to push for passage of the legislation.
CHARLOTTESVILLE, Va. (AP) _ The acting director of the Office of National Drug Control Policy will give the keynote address at a conference in Charlottesville. Michael Botticelli's speech is just one item on the agenda of Thursday's daylong Virginia Heroin and Prescription Drug Summit. Also scheduled are panel discussions on stories of tragedy and survival, state heroin data and policy and legislative strategies. The event is being coordinated by the attorney general's office and the state Office of Public Safety and Homeland Security. It's part of a five-step plan recently announced by Attorney General Mark Herring to combat prescription drug and heroin abuse. Herring says state figures show that fatal heroin overdoses rose from 103 in 2011 to 197 in 2013.
RICHMOND, Va. (AP) _ Virginia's health commissioner is recommending that the state look anew at regulations enacted under the McDonnell administration that established hospital-style building requirements for abortion clinics. In a letter Wednesday to Gov. Terry McAuliffe, Dr. Marissa Levine recommends that the requirements be reviewed and updated. McAuliffe ordered the regulatory review of the clinic rules this spring. Opponents of the clinic rules said they are medically unnecessary and threaten the existence of some of Virginia's 18 abortion clinics. Anti-abortion activists say the standards are needed to correct "seriously deficient" rules governing abortion clinics. Levine says more than 14,000 people commented on the regulations, the vast majority seeking their repeal. Levine said in her letter to McAuliffe her recommendations will go to the state Board of Health in December.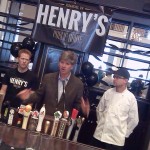 The space that housed the "First and Sixth" restaurant inside the Patrick Henry Building is back in business sometime in November. More from WFIR's Gene Marrano:
RICHMOND, Va. (AP) — Gov. Terry McAuliffe's energy vision for Virginia is stressing a familiar "all of the above" strategy that promotes greater use of renewable generation, efficiency and traditional sources of energy. The thick planning document was released Wednesday. In a cover letter, McAuliffe says the plan will diversify Virginia's economy on several fronts. They include diversifying the state's economy sector by including renewables such as wind and solar generation, as well as offshore energy development. McAuliffe also promotes the "cleanest and cheapest energy" — lower energy consumption. McAuliffe has said Virginia must be aggressive in developing an energy strategy and in pursuing new energy technologies, such as offshore winds. The governor's office says he'll formally roll out the plan on Oct. 14.

VINTON, Va. (AP) _ A judge has ordered a new psychiatric evaluation for a Vinton man accused of beheading his mother. Twenty-nine-year-old Dean Austin Selbe is charged with first-degree murder. An evaluation conducted at Central State Hospital in March found that Selbe was competent to stand trial. The Roanoke Times (http://bit.ly/1uAZWb0) reports that Selbe's lawyer, Michael Massey, requested the new evaluation. Massey told Roanoke County Circuit Court Judge James Swanson on Tuesday that Selbe's mental state has since deteriorated. Police say Selbe's mother, 55-year-old Karen J. Selbe, was found dead in her apartment in Vinton on Jan. 26. Her head had been severed from her body.