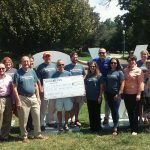 9 local non-profits will split the $81,000 raised during Saturday's Deschutes Streetpub event – from the sale of nearly 40,000 beers. Pete Eshelman and Roanoke Outside helped organize the event. 241 kegs of beer were tapped during Saturday's Streetpub in downtown Roanoke.  Eshelman says Roanoke Outside also helped recruit 278 volunteers to help out during the 8-hour event
From the Franklin County Sheriff's Office: During the course of an investigation being conducted by the Franklin County Sheriff's Offices' Special Investigations Unit along with the Virginia State Police,  Alcohol Beverage Control, and the Alcohol Tobacco and Firearms (ATF). Investigators of the office of the Sheriff discovered a sophisticated underground Marijuana grow operation. This operation was 10 feet underground in which Investigators had to go down a ladder 10 feet and crawl through a tunnel 10 feet long to reach a 40 foot by 8 foot storage container that had been buried. This container had mutable marijuana plants along with other items to manufacture marijuana. Investigators located multiple firearms which were also seized by the Office of the Sheriff, County of Franklin. Other items seized include a vehicle, 2 four wheelers and a Trackhoe. The Virginia Alcohol Beverage Control seized items consistent with manufacturing untaxed whiskey.

RICHMOND, Va. (AP) _ Several gun rights advocates are criticizing Gov. Terry McAuliffe's move to ban concealed handguns in state-owned office buildings. Advocates a public hearing Wednesday in Richmond said the governor's executive order is making the state less safe and more vulnerable to a mass shooting. McAuliffe issued an executive order last year banning the open carry and concealed carry of guns in most state-owned office buildings, saying the move was necessary to prevent gun-related violence. Some gun control advocates commended McAuliffe's move, but most speakers at Wednesday's hearing opposed the measure. McAuliffe, a Democrat, has been an outspoken advocate for tighter gun control measures, and is often in disagreement on gun issues with the GOP-controlled General Assembly.
From Roanoke County Police: (Roanoke County, VA) – On Sunday, August 28, just before midnight, Roanoke County Police responded to a call for service in the parking lot of Wendy's in the 4300 block of Electric Road. It was stated that a gentleman in the drive-through lane of Wendy's was passed out inside his vehicle, with the engine running and was unresponsive. Roanoke County Fire & Rescue initially responded to the call as it appeared the man may have had a medical emergency. Upon seeing the condition of the man, medics called for Police to respond. After waking him and asking him to step out of the vehicle, it appeared to the officers that the man was under the influence of alcohol and/or some other substance. He presented false identification to the officers. Officers conducted field sobriety tests, during which time the man fled from officers to behind the Enterprise Rental Car building next door. Officers pursued him and during the course of the incident, it was necessary for officers to use force to subdue the man and he was taken into custody. Fire & Rescue personnel returned to the scene and transported him to the hospital where he received medical attention for minor injuries, and was then transported to Roanoke County Jail. The man is identified as 34-year old Alvin Anthony Murdock of Roanoke City. He was charged with DUI-Third or Subsequent Offense, Obstructing Justice, and Giving False Identity to Law Enforcement Officer. Per standard departmental policy, the Roanoke County Police Department is conducting a review of the use of force by police officers.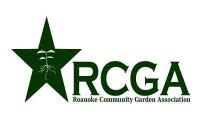 The Roanoke Community Garden Association has a new executive director  – founder Mark Powell handed over the reigns to Heather O'Bryan two weeks ago. O'Bryan is a horticulturist by trade. The RCGA now has six community gardens in Roanoke City – with more than 100 families working small plots this year. O'Bryan had been teaching how-to classes for the non-profit – and will continue to do so

From Governor McAuliffe's office: Governor Terry McAuliffe released the following statement today in response to the latest Republican lawsuit to strip Virginians of their civil rights: "Fewer than two weeks after Republican Senate Leader Tommy Norment, who was a plaintiff in both of these political cases, said 'I am pleased Governor McAuliffe has complied with the decision of the Supreme Court of Virginia,' Republicans have fully demonstrated that their sole motivation in these cases is to deny Virginians the right to vote. "Senator Norment is right — Following the Supreme Court's ruling on my April 22nd order, my team fully complied with the court's order and established a process that is fully consistent with the ruling as well as the precedent of past governors. "Our ongoing fight to restore Virginians' rights is about one thing: Moving our Commonwealth into the mainstream of American states where people who serve their time reenter society as full citizens again.
(Continue reading for the rest of the news release.)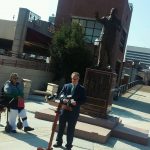 A progress report on the call for an independent investigation into the death of Kionte Spencer this morning. More from WFIR's Gene Marrano:

Those looking for an opportunity to network with local business leaders can do so at an upcoming event hosted by the Salem-Roanoke County Chamber of Commerce. The details from WFIR's Starr Anderson.

From House Speaker William Howell's office: Attorneys for Virginia House of Delegates Speaker William J. Howell (R-Stafford), Senate Majority Leader Thomas K. Norment, Jr. (R-James City), and four Virginia voters will file a contempt motion today against Governor Terence R. McAuliffe (D) with the Supreme Court of Virginia.  The petitioners are requesting an order from the Court requiring the Governor and other respondents to show cause for why they should not be held in contempt for violating the Supreme Court's July 22 decision in Howell v. McAuliffe. In granting a writ of mandamus against Governor McAuliffe and other respondents, the Court ruled that the governor replaced a general rule with a categorical exception, effectively suspending the constitutional prohibition on felon voting and violating the Constitution of Virginia's anti-suspension provision.  The contempt motion argues that the effect of the August 22 action is practically the same as the first set of executive orders, resulting in another unconstitutional suspension of the laws.
(Continue reading for the rest of the news release.)
Virginia Senator Tim Kaine is seeing a lot of the United States  right now — if he has much of a chance to look out the window between campaign stops. As WFIR's Evan Jones reports, Kaine is constantly on the move.